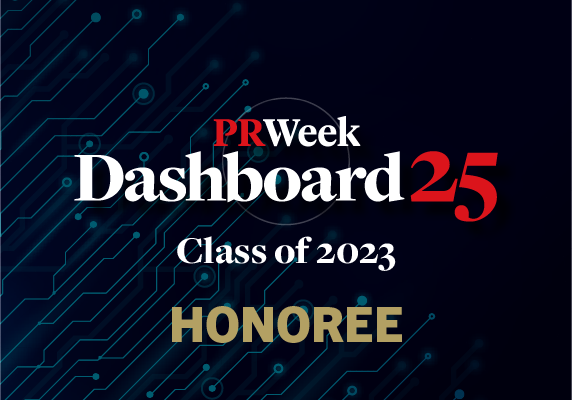 PRWeek names Onclusive's Dan Beltramo Dashboard 25 Honoree
Dan Beltramo, Onclusive's Chief Innovation Officer, recognized as communications technology leader in the PRWeek Dashboard 25 Class of 2023
24 January, New York: Dan Beltramo, Chief Innovation Officer at Onclusive, has been recognized in the 2023 PRWeek Dashboard 25, the annual list featuring the key leaders and innovators shaping the communications technology industry.
Launching in 2020, the prestigious annual list celebrates the visionaries and risk-takers driving the PR and media measurement industry forward.
This is the second time Dan has been recognized, having been formerly featured on the 2020 PR Week Dashboard 25.
"Dashboard 25 is the preeminent industry honor for the people behind the scenes who are helping PR pros prove the value of what they do," said PRWeek executive editor Frank Washkuch. "They're the innovators driving the industry forward."
Dan has long been an advocate for and innovator of analytics that demonstrate the value and impact of PR, communications, and marketing to business success, including Onclusive's patented PR Attribution and Power of Voice metrics.
Alongside founding pioneering analytics company Vizu, Dan has also held the position of Executive Vice President of Marketing Effectiveness at Nielsen and Vice President of Marketing at data intelligence company Instill.
Becoming CEO of an ambitious, US-based media analytics start up in 2018, Dan led its sale and merger to become Onclusive, the world's third largest media measurement company. Dan has played a pivotal role in Onclusive's formation and growth, including last year's acquisitions of integrated earned media and broadcast monitoring solution Critical Mention and market-leading social media platform Digimind.
Throughout his career, Dan has further demonstrated his entrepreneurial spirit with two conusmer product patents on top of two joint patents for media measurement.
Dan Beltramo commented:
"I'm delighted that my continued contribution to advancing communications measurement have been recognized a second time by PR Week. Innovation is a team sport and this accolade also pays testament to the passion, determination, and creativity of the wider Innovation Team at Onclusive. We are focused on developing the best technology and experience for our clients as the global partner for success for PR and communications teams."
Read more about the PRWeek Dashboard 25 Class of 2023 here.