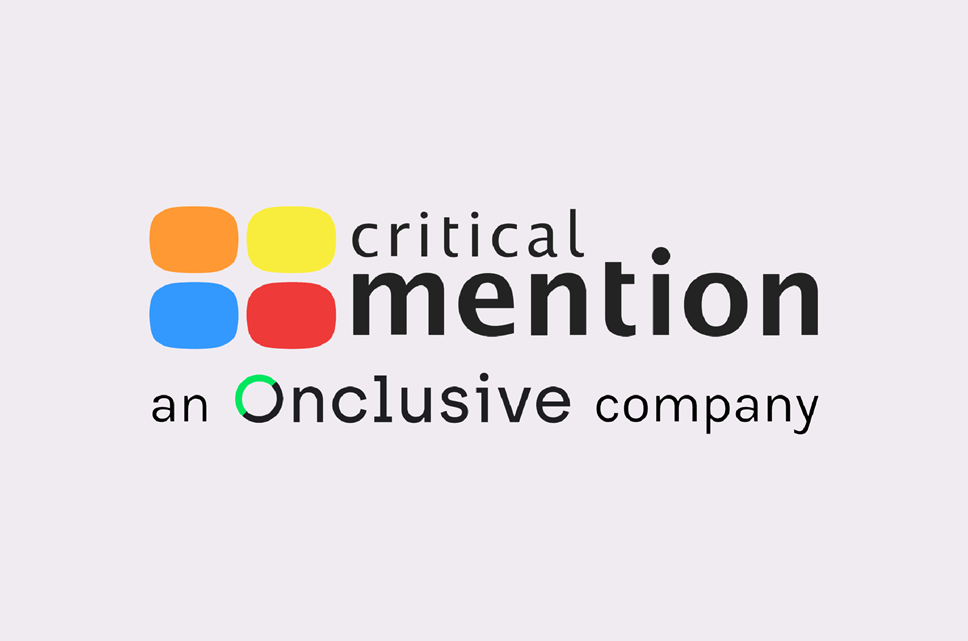 Onclusive expands US footprint with Critical Mention acquisition
Through the acquisition, Onclusive enhances its US offer with an integrated, earned media & broadcast monitoring and media contacts database solution
Acquisition reinforces Onclusive's position as the third largest media monitoring provider in the US with +3000 clients
New-York, 26th May 2022: Onclusive has today announced the acquisition of US-based media monitoring platform Critical Mention. The move significantly enhances Onclusive's global footprint and its ability to offer US broadcast monitoring and media contacts capabilities to clients worldwide.
Onclusive was formed at the start of this year following the acquisition and merger by STG of Kantar's Reputation Intelligence business, PRgloo and the legacy Onclusive.
Critical Mention offers an integrated earned media monitoring service which includes broadcast, podcast, online news and social media for clients in the US, along with a validated media contact database. The company's team is predominantly located in offices in New York and India, all of whom will continue under the Onclusive merger.
This acquisition will further allow Onclusive to deliver on its commitment to offer a complete suite of market-leading global media monitoring, measurement and management solutions.
Commenting on today's acquisition, CEO at Onclusive, Manuel Moerbach said:
"We are delighted to bring on board Critical Mention at this exciting point in our journey, integrating their technology and expertise into our business. This acquisition reinforces our mission, to work closely with our clients as we strive to deliver the world's most respected media intelligence service. We are constantly seeking opportunities to build upon and improve the service we offer to PR and Communications professionals around the world."
Don Yount, CEO at Critical Mention added:
"My job at Critical Mention always came down to unleashing the talents of our team members, who, in turn, unleashed the potential in our platform. They created tremendous value for our shareholders, for our customers and for themselves. From the start, I believed that we would one day join forces with the ideal strategic partner with whom we could multiply that value. It is hard to imagine a better strategic fit than Onclusive."
Critical Mention's existing 3000+ clients can continue to access their products and services as usual. Soon clients will be able to benefit from the wider Onclusive offer.
Onclusive is owned by technology investor Symphony Technology Group (STG). This acquisition was advised by Canaccord Genuity LLC and Paul Hastings. Support for the transaction was also provided by Main Street Capital Corporation and Stellus Capital Management. Oaklins DeSilva & Phillips, LLC and Pryor Cashman, LLP served as the advisers to Critical Mention.
Notes to editors
Notes to editors
For further information contact
onclusiveteam@firstlightgroup.io / +44 020 36177240
About Onclusive
Onclusive is a global partner for PR and Communications success. Our technology, insights and expertise make sense of the fractured, fast-moving media world, helping you manage, monitor and measure your communications activity.  Elevate your performance and prove and improve your value with Onclusive on your side.
www.onclusive.com